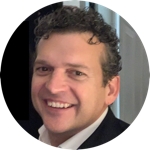 My father was a mechanic that could fix anything (or give it a go). My mother was a teacher and workaholic. I've been building things, fixing things and learning all my life.
I'm an engineer and technology leader, with a good mix of business experience and communication.
I work with SaaS and cloud systems, particularly complex systems, data and enterprises with challenging integrations.
✓ SaaS and enterprise experience
✓ Start up experience
✓ Big data and ML experience
✓ An MBA with reality, M&A and integration experience
✓ Not afraid to get my hands dirty no matter the mess
History
Jeromy started his engineering career designing combat and sonar systems for submarines. His job was to turn PhD's mathematical models into real electronics and software. Through those exciting early projects he grew into a role as a systems architect integrating commercial and military tech into the platform while refining new techniques for risky integrations.
In 2005 Jeromy founded a business with the idea to apply the proven integration techniques learned in defense systems to the simpler but more lucrative enterprise software projects. His foray into startups led to building a real estate search engine that discovered investment opportunities using forecast cashflow.
In 2007 Jeromy helped create a SaaS HR platform focused on employment risk and compliance. He helped grow the startup from 3 to 16 employees through product-market fit. In 2015 Jeromy packed up and moved to the USA to work with SaaS for larger businesses with complex needs. As an Engineering Director he helped grow the engineering team from 30 to 100 engineers and expanded the product for use by some of world's largest businesses.
In 2020 Jeromy started working as a VP Engineering with Emburse to create platform services addressing data-intensive needs: data lakes, warehouses for analytics and machine learning opportunities, image processing pipelines and integrations to enrich these processes.
Jeromy is passionate about entrepreneurship, lean practices, and disruptive technology. He's always loved complex systems and technology, especially at the intersections between software, the physical world and people. Jeromy also mentors start-up founders and business leaders, graduated with an MBA (Executive) in 2014, has climbed Mt Kilimanjaro and been a tennis coach.